We are in an epic battle: donor fatigue vs. hunger fatigue.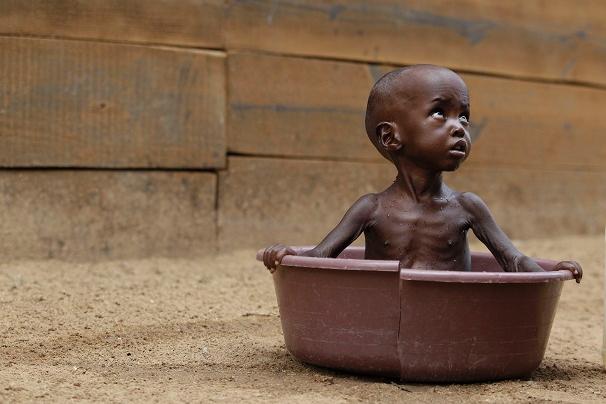 Crisis in Africa
In case you are living under a rock, there is a famine crisis caused by severe drought and Al-Qaeda backed rebels in the Horn of Africa, a region roughly defining the East African countries of Somalia, Ethiopia, Djibouti and Eritrea. Tens of thousands have already died of starvation and millions more are at risk if resources are not made available quickly. Preventing more deaths due to hunger is possible, but time is ticking.
While it can be argued that the biggest obstacles preventing solutions in this region are corrupt foreign governments or our own tough economic times, it seems the real problems standing in the way are ignorance and complacency. How do go about our normal lives when millions of lives are on the brink of destruction? How can we watch videos of people starving to death and see photos of the devastation, then just look away? How can we hear that dead children are being left on the side of the road en route to refugee camps and not be affected?
Something must be done.
The Question
Obviously, a huge component to helping to alleviate the circumstances in the Horn of Africa involves generous and compassionate people giving their time, money, blood and other resources in order to put food and water in hands of the people that so desperately need it. Some people have not given yet, but many have already given – maybe they have even given a lot. Some are tired of giving or just tired of hearing about it.
Wynn Flaten of World Vision asks a great question:
We are in an epic battle: donor fatigue vs. hunger fatigue. The question is, "Who gives up first?"

– from Horn of Africa: In hunger battle, who gives up first?
How to Give Money or Do Something
Below are a list of some great organizations doing work in the Horn of Africa. Pick one. Do something. Help people. You may be surprised at how effective a small donation can be.
If you are a Christian, I appeal to you with these words from Jesus as recorded in the book of Matthew. You may be tired of hearing them, but ignoring them won't make it go away.
Then the righteous will answer him, 'Lord, when did we see you hungry and feed you, or thirsty and give you something to drink? When did we see you a stranger and invite you in, or needing clothes and clothe you? When did we see you sick or in prison and go to visit you?'

The King will reply, 'Truly I tell you, whatever you did for one of the least of these brothers and sisters of mine, you did for me.'
No Comments >