Google Voice and SMS messages are dangerous partners. Do you know how your text messages are being sent and received?
A funny thing happened today. I received some text messages from a number I didn't recognize. Here is the transcript of our SMS exchange.
Text from a Stranger

Stranger: Quick! What was the wintergreen root beer you bought at Wegman's called?
Stranger: We found it! Virgil's root beer. Delish!
Me: Who is this?
Stranger: Um. Who is THIS?
Me: You texted me. You first.
Stranger: I texted you? Sorry. Must be a mistake. Your number comes up unknown on my phone. what did I txt?
Me: You asked me about root beer. Lucky guess, I suppose, since Virgil's is my favorite.


Stranger: Isn't this scott?
Me: Yep. Who are you?
Stranger: Stevan!
Stranger: What number comes up from me? Your number texting me now is [XXX-XXX-XXXX] ??
Stranger: I originally txted your [XXX] number... (Stevan Sheets in case you know other Stevans)

Getting a text like this isn't all that rare. Occasionally a friend will change phone numbers and send me a text before I have put their new number into my address book. After some initial confusion it usually becomes clear who the mystery messager is. As usual, the stranger in question wasn't a stranger, but my good friend Stevan Sheets.
Grocery Stores & Root Beer
First things first. Wegman's is probably the best chain of grocery stores ever and part of my list of mandatory stops when I'm in the Northeast. And although I'm not much of a soda drinker, Virgil's Root Beer (and the many Ginger Brews also made by Reed's Inc.) are the finest sodas I've ever tasted. But I digress…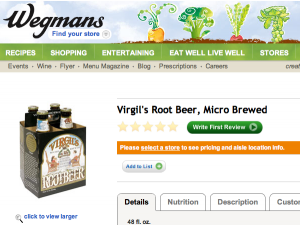 What really happened
Despite all of my persuasive arguments, Stevan still has not become an Apple guy. He seems to love the dark side. He spends lots of his time trying to use an Android phone, tweeting about how awful iPhones are, and expressing his love for Google products. Naturally, when he moved across state a few years ago, he kept his old cell number and signed up for a local number via Google Voice. He ported this new number to his phone, where it has been operating somewhat natively within the Android OS ever since. The funny part is that my good-buddy-ol'-pal, Stevan, has been using this number as his primary for over 2 years, yet I didn't know it. We regularly communicate with each other using various web tools (Twitter, Facebook, Skype, email, etc.), but for whatever reason we rarely use the phone or text. I still had his old number in my phone. So after our back-and-forth on SMS, I called Stevan to try to figure what happened. We talked through it and think we worked out the problem. This is where it gets funky, so I'll try to break it down to make it easy to understand.
A Glitch in The Matrix
This evening, Stevan sends a text to my cell number from his phone via his Google Voice number.
Google Voice intercepts the text from Stevan, recognizes that my cell number is linked to a Google Voice number, and sends the text to my Google Voice number instead.
Since my Google Voice number is set to forward texts to my cell number, I receive Stevan's text on my phone like normal at my cell number.
I don't have Stevan's Google Voice number in my address book, so I don't recognize the sender and reply from my cell number, "Who is this?"
Google Voice then intercepts my text, recognizes that it's from my cell number, which is linked to a Google Voice account, and sends the text to Stevan as though it came from my Google Voice number.
Stevan receives my reply, but it appears in a new message thread from a number he doesn't recognize, so he replies, "Um. Who is THIS?"
I scratch my head and wonder who would text me about my love for Virgil's root beer, but wouldn't know who am I, while Stevan wonders why his friend Scott won't write him back and why some stranger is texting him.
How This Is Dangerous
What we figured out tonight is that Google Voice is doing some questionable handling of text messages behind the scenes that could lead to some quite unfortunate outcomes. All kinds of problems could happen if SMS messages can't be sent and received with reliable confidence about what number the message is being sent to or from. You might think it doesn't matter for you as long as you are not texting from Google Voice, but that's not necessarily the case.
Imagine This Scenario
Tim meets a Sara. Sparks fly. Tim, being a modern guy, asks if Sara if he could text her. Wanting to be safe, Sara gives him her Google Voice number instead of her mobile number. The next day Tim texts Sara from his mobile. Unfortunately, Tim works at Widget Inc., a small company that uses Google Voice for official company business and Tim's phone is one of the phones it forwards to. Google Voice sends Tim's text as though it's coming from the Widget Inc. Google Voice number instead of his mobile number. When Sara replies to Tim, she's actually replying back to Widget Inc. thinking that is Tim's personal number. Now any employee at Widget Inc. that has access to the company's Google Voice account or receives forwarded texts on their mobile can see Sara's text to Tim. Good thing Sara only said, "Fri is good. Pick me up 7ish? <333" and not something more embarrassing.
Our Recommendation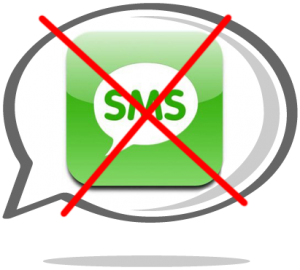 Until Google Voice decides to stop commandeering numbers, we recommended not using Google Voice for text messages. Don't send SMS messages to or from a Google Voice number and disable the receipt of forwarded text messages to cell phones. If you receive a text from a number you don't recognize, do not reply to it, or only send a reply with information that you don't mind being made public. For now, here's how to disable text forwarding on your phone, which is better than doing nothing.
Disable Text Forwarding
Log in to your Google Voice account.
Click on the little Options cog in the upper right corner.
Choose 'Voice Settings' from the list of options in the drop down menu.
Under the default 'Phone' tab make sure the "Receive text messages on this phone" box is unchecked.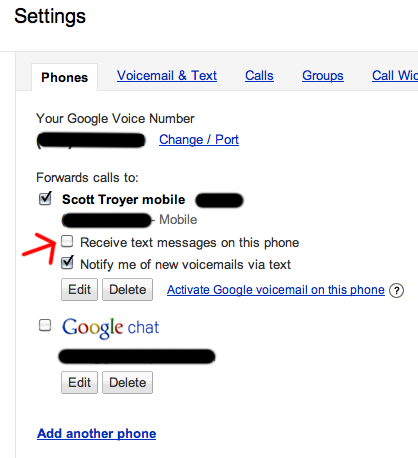 2 Comments >